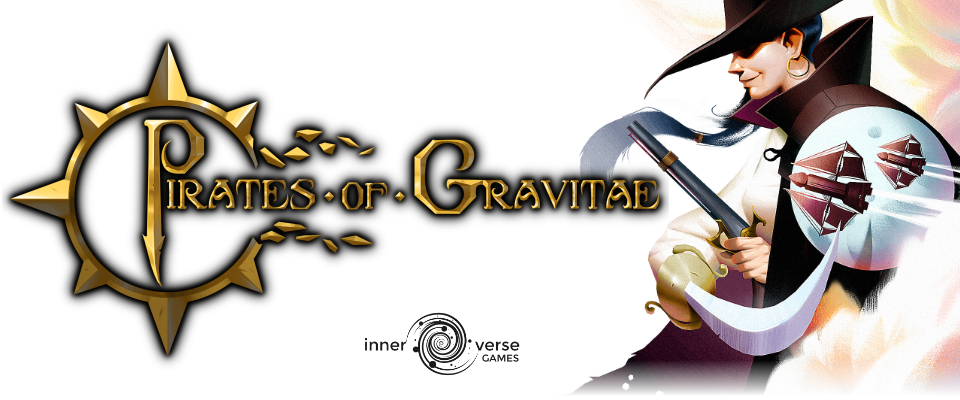 Pirates of Gravitae
A downloadable game for Windows
Dogfighting seadogs!
Experience a rocket propelled roguelike swashbuckler like no other!
The Game
Pirates of Gravitae is a 2.5D action roguelike with fast-paced aerial combat, set in a fictional version of the Golden Age of Piracy. It is in active development with a playable early access version available.
Features:

Physics-based dogfighting action against challenging AI enemies

2D action presented in vibrant 3D with dynamic camera views

Run based campaign with persistent unlocks and upgrades

Variety of collectible perks

allowing different 'builds' for each run

Variable time of day, weather and flight conditions

Different mission types (coming very soon)
Pilot a gravity defying pirate ship and command her eclectic crew, in a bid to bring down an evil, tyrannical organization that is tearing the earth itself apart.
Dogfight your way through the Neo Caribbeans. Defeat challenging foes. Gain amazing new abilities. Train your crew. Collect powerful loot and untold treasures.
Raid treasure laden galleons and escape before their escorts catch up.
Destroy forts with aerial bombardment, to open up sea routes that lead to your ultimate victory.

Plot your course to take full advantage of your equipment and the skills of your crew. Negotiate high and low winds, and full blown storms. Take cover in floating debris fields. Equip your crew for night or day, high or low altitude. Visit the "merchant" Shiver Me Own Timbers Pirate Outfitters to spend your hard looted gold.
THE STORY
The year is 1650 and humans have discovered the means to extract Gravitae from ordinary matter, the essence that grounds and binds things to earth itself. The combustion of Gravitae in shipborne engines has enabled massive naval vessels to take to the skies, nimble as birds. New trade routes have been discovered unimpeded by land or ocean, bringing obscene wealth in a short period of time to a select few who control the extraction of this wondrous resource.
The rich and powerful have used Gravitae to levitate the most fertile lands and valuable assets out of the reach of ordinary people. They have built floating towns and cities saturated with comfort and luxury, unburdened by the destruction caused in the extraction of Gravitae.
Driving this massive change is a globe-spanning power unaccountable to any nation: the Dynamic India Company. It is rumored that the two DIC heads, only known as El Jeffe and Il Doge, are plotting to create an entire new world in the heavens for themselves to rule, by combining the stolen riches of the earth and the mass of the moon. Unstopped, this will spell certain and terminal disaster for everyone left on earth.
It is not too late yet.
Update a0.4 - Land Ahoy
Since the original alpha debut, the game has seen the addition of two new mission types, more enemy variety, more loot options, and lots of fixes. The newest version brings more varied backdrops for a bit of environmental storytelling.

Early Access
Pirates of Gravitae is the work of a solo developer (with some help in art and audio), and is currently fast approaching a Steam Early Access release on March 31st. What you can expect in the months ahead on the way to the final 1.0 release:
A lengthier campaign
More enemy types
More abilities and bonuses
More mission types and environmental elements
More visual polish
A story mode
Better refined balance
It also means you will likely encounter bugs and glitches, unbalanced encounters or items or mechanics, changing features, nerfs and buffs to various elements, etc.
The goal of this early access period is to gather invaluable feedback from the community and release a solid, stable and fun game. The hope is that the revenue from early sales will also allow the expansion of the development team and the scope of the game, to craft an even better entertainment experience full of exciting content for you.
Hope to see you aboard!
Recommended Specs:
CPU: 3.4GHz, 4Cores

RAM: 8GB or higher

Video: GeForce GTX 1660 6GB
The game will run on lower specs as well, but it has been most extensively tested with the above specs for smoothness of gameplay experience.

| | |
| --- | --- |
| Updated | 9 hours ago |
| Status | In development |
| Platforms | Windows |
| Rating | |
| Author | Innerverse Games |
| Genre | Action, Shooter, Simulation |
| Made with | Unity |
| Tags | Arcade, dogfighting, Physics, Pirates, Roguelike, Roguelite, Shoot 'Em Up, Steampunk |
| Average session | About a half-hour |
| Languages | English |
| Inputs | Keyboard, Mouse |
| Links | Steam |
Purchase
In order to download this game you must purchase it at or above the minimum price of $11.99 USD. You will get access to the following files:
PoG_04LandAhoy.zip
517 MB